Dolphin Adventure + Tulum Private Tour
Two unforgettable activities in one day. Swim with dolphins and visit the Mayan ruins of Tulum. Do not miss the chance to experience this unique activities in the Riviera Maya with the comfort of your own guide and private transportation on board a luxury SUV.
We will begin pick you up at your hotel and take you to visit archaeological zone of Tulum, the walled city and one of the most important cities of the Mayan culture. Tulum is magical, the turquoise color from the Caribbean sea beside the ruins make this visit unforgettable.
You will get a guided tour of the ruins by a certified guide, giving you an in-depth understanding of the significance of this city and the Mayan culture that it contained.
After visiting Tulum you will enjoy a delicious lunch where you will be delighted with fresh seafood or Typical Mayan dishes.
To complete our excursion, you will be taken to live a wonderful experience Swimming with the Dolphins, this activity takes place at Delphinus Riviera Maya where you will interact with these extraordinary creatures. Feel the texture of their skin, listen to the sounds they make above and below the water, observe the grace and agility of their movements, swim with them and watch as they perform amazing acrobatics.
Enjoy an incredible time interacting with the dolphins as they get close enough to pet, be kissed by them and learn about these marine mammals. The dolphinarium in set in their natural environment surrounded by the breathtaking beauty of the Mayan Riviera.
We recommend a pick-up time from your hotel at 9:30 AM from Cancun and 10:00 AM from Riviera Maya, You will be back around 6:30 PM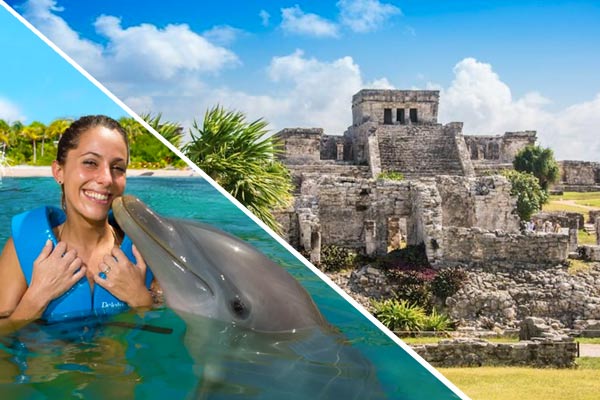 Included:
Private round trip transportation from your hotel on Suburban SUV up to 5 passengers or Mercedes Sprinter for large groups.

Visit at the archeological site of Tulum, (Guided tour and free time to take pictures, go to the beach or souvenirs or art crafts shopping.

Entrance Fees to Tulum
Lunch
On board cooler with beers, sodas and bottled water.
Dolphin Interactive Activities: 45 minutes program including briefing, free Interaction, Plataform, Hugs, Kisses, Signals, Jumps, Bar Jump and Free Swim (10 participants per group)
Not included:
Gratuities for guide and driver
Recommendations:
Comfortable shoes and outfit
Camera
Sun glasses
Bathing suit and towel
Remember to use biodegradable sunscreen to protect your skin, the environment and marine species.
Bring extra cash for souvenirs, photos and video
Additional information
Children rate: 6-10 years old
The lowest height must be at least 3.3 feet (1 mt.) to enjoy this activity.
Wearing safety vests during any water program is mandatory.
For safety reasons, pregnant women are not allowed to participate in this tour.